Tampa Bay Fl Guided Fishing Charters | Fishing Charters Guided Tampa Florida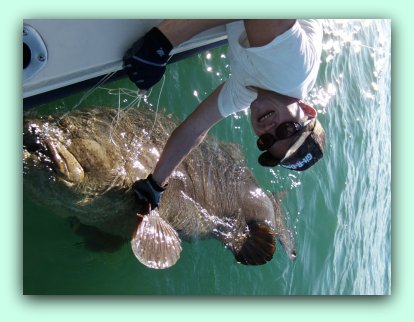 450 Pound Goliath Grouper caught by Justin and released on Fat Cat fishing charters.net St.Petersburg Florida four miles out in the gulf off of the St.Pete Beach.11/15/2009.
Know the Laws on Goliath Grouper, AKA Jew Fish. It is against the law to remove the Goliath Grouper from the water. It is also against the law to REMOVE the HOOK! These fish are protected and are catch and release only.

Guided by Capt Jay Masters and son Capt Brad Masters.


CAPTAIN Brad Masters 727-564-6459
Find Tampa Bay Fl Guided Fishing Charters, Fishing Charters Guided Tampa Florida and other cities at Fat Cat fishing charters sponsors and links page. Anglers information for fishing, charters, guides, hotels, motels, lodges and family Florida vacations in and around the Tampa, Tampa Bay Florida, St.Pete, Disney Fl area. Catch fish with Tampa Bay Fl Guided Fishing Charters and catch Snook, Tarpon, Grouper and more in the Gulf of Mexico, Tampa Bay, and the Gulf beaches with Capt Jay Masters today.

USCG Charter Guide Capt Jay at Fat Cat Fishing Charters Caters to Kids !
We Make Sure They Catch Fish, so why not MAKE IT A FAMILY AFFAIR!
Bring the kids for a day they will remember a life time on a Fishing Charters Guided Tampa Florida trip.
There is no better time spent together as a family than fishing with Fat Cat Fishing Charters in the Tampa Bay Fl area. The memories your kids will have will last a lifetime and give them a positive out look on life that YES I can do it, and every one in the family can participate. Make it a day or evening to remember.

Hotels, Motels, Lodges, Fishing Charters, Trips and vacation spots can be found at an affordable price in the St.Pete, Tampa Bay area Fat Cat Fishing Charters sponsors and links page. Summer time is the best time for the lowest rates and you can save money on Disney, Orlando or Florida vacations any where in the state . Tarpon are plentiful from March to Sept and this is the best time for Tampa Bay Fl Guided Fishing Charters and Fishing Charters Guided Tampa Florida if Tarpon is what your wanting to catch. Fishing Tampa, Tampa Bay Fishing charter, and Tampa Fishing Fl is what Fat cat Fishing charters is all about. Please support our sponsors and click on there links to find fishing reports, motels, lodges, hotels, Florida vacations and more.
Sponsor's and Link's


You can easily copy this code and paste it in your websites own html code to link your site to ours. We will return a link to any fishing charter or fishing website. That also includes other types of outdoors sports related websites. We certainly appreciate any link to our website. Your site does not have to be about charter fishing as long as it is an outdoors related site.




<A href="http://www.fatcatfishingcharters.com/" target="_blank" style="color:#0033CC;">St.Pete Fl Tarpon Fishing Charters</A> - Enjoy a great day of St.Pete Fl Tarpon fishing with Captain Brad Masters.

http://www.tampabaycharter.com/gulfport-captains.asp
Contact us at captainbradleymasters@gmail.com if you would like to link to this site!

St.Pete Fl Fishing Charters and Tampa Bay Guided Fishing Charters is the perfect location for a Florida family vaction fishing trip.